Glampunk.org
DEAD BOYS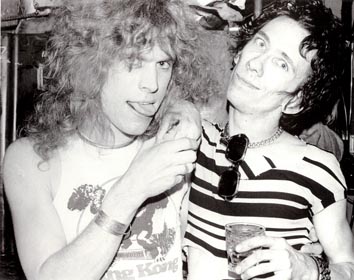 Mach Bell & Stiv Bator @ The Rat

STIV AND CHEETAH LIVE ON THE AIR
With Mach Bell and Oedipus
Transcribed from the APRIL 23, 1977 broadcast of DEMI-MONDE on WTBS-FM in Cambridge MA.
Foreword: In April 1977 the Dead Boys drove to Boston for a weekend of shows at The Rat with my band Thundertrain. This was their first big weekend booking here and the Dead Boys were also debuting their new buzzcuts. On Saturday, Cheetah, Stiv and I payed a visit to Oedpius's Demi-Monde radio show at MIT. Oedi was a trailblazer. He introduced the punk sound to Boston radio. Stiv was even further ahead of the curve, and during this interview you will hear Stiv introduce Boston to some unknown artists called The Clash and Elvis Costello. During this interview Oedi refers to Stiv as Steve - so the name change had apparently not happened yet. If you read my Dead Boys Story here on the Glam Punk website, this radio interview happened during the week I described in Part 3." I'd like to thank Dave Koehler (HardKorps) for recording & preserving this treasure.
RIP Stiv.

- Mach Bell
www.thundertrain.com

Track: ALL THIS AND MORE. - The Dead Boys
Track: FOREVER & EVER - Thundertrain
STIV: This is the Demi Monde show on WTBS in Cambridge, taken over by the Dead Boys. So don't touch that dial or we will kill you.
OEDIPUS: Ah. The Dead Boys have invaded the studio. We just heard Forever & Ever from Thundertrain's brand new album called "Teenage Suicide" out on Jelly Records. And before that "All This and More" by the Dead Boys... Hey man, where did you guys do that "All This and More" - that tape - this fabulous tape that you gave me?
CHEETAH: It was done at Electric Lady in New York.
OEDI: Electric Lady?
CHEETAH: Yeah.
OEDI: And who produced it?
CHEETAH: uh, Genya Ravan.
OEDI: And is there any possibility it's gonna be released soon?
CHEETAH: (laughs) Real good possibility, yeah.
STIV: Some record companies are into it...we had about six peolple come down and see us.
OEDI: So you guys are from Clevend huh...
CHEETAH: (interupts) Unfortunately.
OEDI: ...is that why you are Dead Boys?
CHEETAH: We're from New York now (Stiv laughs).
OEDI: You're all living in New York at this point?
STIV: Uh, sort of.... we don't have an apartment... we just stay with chicks y'know.
OEDI: I see.
STIV: (mumbles and laughter)
OEDI: Right now in the studio, Steve the lead singer of the Dead Boys and Cheetah who plays guitar. And Cheetah you were telling us that on the Pere Ubu song that we play here called "Final Solution"... that you used to play..or wrote that song? Or something like that?
CHEETAH: umm...okay...There was a band, a very famous band from Cleveland called Rocket from the Tombs. And like...when Rocket from the Tombs split up, like half the band went to the Dead Boys - or different other bands that eventually ended up being the Dead Boys. And the rest went on to be Pere Ubu. And some of the material we do... were Rocket from the Tomb songs.... and some of the songs they do are Rocket From the Tombs songs...Final Solution is one of them.
STIV: Yeah. Final Solution was written about Cheetah.
OEDI & CHEETAH: (laughter)
CHEETAH: I was the victim of those lyrics.
OEDI: A sequel to Blue Cheer... Summertime Blues
CHEETAH: Yeah...that's what it was written from man.
STIV: Yeah, that's where they stoled it. (Cheetah laughs)
OEDI: Is there any places to play in Cleveland?
CHEETAH: uhhh, yeah...there's plenty of them...but not for us.
STIV: (laughs) If you're from out of town it's a great town to play in, cause they like ya... but if you're local and trying to play your own music... ya ain't got a chance. They stop you right there.
OEDI: So you mean like Thundertrain could get in playing...
CHEETAH & STIV: Oh yeah! They'd go over great.
OEDI: Where could some of the Boston bands play? If they wanted to go off to Cleveland?
STIV: They should hit the Agora.
CHEETAH: The Agora for sure.
STIV: They could warm up for a national act. Even... if they did a Boston night and brought in three bands... yeah, that would be cool. But, like a.... y'know just Cleveland local bands - they don't give you a chance to play your own music... they just figure you're no good. They know ya. Like Eric Carmen. Raspberries didn't have any success until they went to LA.
OEDI: Oh yeah? Really?
STIV: They had to move out of town. They were booed.
CHEETAH: He was around Cleveland for about ten years trying to get some place. People used to throw things ... (yells) Hey get off the stage!
STIV: Yeah, he had a lot better bands than Raspberries. And the one now. Like one band called Cyrus Erie...
OEDI: (interupts) Oh! They were around for quite a while man!... (noise in backgound) Mach Bell just walked in the studio from Thundertrain.
CHEETAH: Hey Mach! (sound of chairs falling over, laughter)
MACH: (howls) Whaddaya say boys? Are you lying to him about Cleveland?
OEDI: (interupts) I saw Cyrus Erie about seven years ago...they've been around forever - my god.
STIV: Yeah
OEDI: So if Pere Ubu doesn't play in Cleveland either...
CHEETAH: Oh - they do.
MACH: (still in outer studio) Can ya turn on this monitor so I can hear what you're saying?
OEDI: No. You have to come in here Mach.
MACH: Okay... I'll come in there.
OEDI: I don't know how he heard that.
STIV & CHEETAH: (laughter)
STIV: Yeah, Pere Ubu, there's this one bar they play down in the flats...and all twenty of their friends show up... (laughter)... and they come to see 'em and that's about it.
OEDI: And the flats in Cleveland are down by the steel mills. Down by the Cayahoga(?) River, which you can virtually walk on... it's a ... a fire hazard. (laughter) So tell me... you're an unusual band because you don't have a bass player... I find that kinda interesting.
STIV: Yeah... uh... when we play in New York we have a bass player... Johnny DeSalvo from Tuff Darts... he plays bass. And - whaddayacallit - a guy called Bob Clearmountain - he works with - uh, he's the engineer at Media studio, he did the bass on it for our album.
OEDI: Uh-huh.
STIV: But our original bass player, he died. (silence) He got in a car wreck on his birthday. (silence) Like uh - we all slammed into the back of Cheetah's girlfriend's car - we were all drunk and driving. We were coming back from a practice and he was riding suicide and went through the windshield.
OEDI: Oh god.
MACH: Once a Dead Boy, always a Dead Boy.
CHEETAH & STIV: He was the original Dead Boy.
OEDI: (shocked)...oh man. That's heavy man...I didn't know...oh wow.
STIV: That's why we never had a bass player.
OEDI: But your gonna get a bass player...
CHEETAH: Yeah, we start auditioning bass players next week in New York.
STIV: Yeah, we're looking for one now so if there's anyone out there that wants to play bass... just give us a call.
CHEETAH: Gotta have short hair.
MACH: Calling David Godbey!
OEDI: Okay if you want to play bass, or if you want to talk to the Dead Boys... (laughter in the back) David Godbey is the bass player from Fox Pass and he's playing in a new band called Cinema... but if anyone would like to talk to the Dead Boys for any reason give us a call here at 494-8810 and we'll put you right on the air.
STIV: 'specially if you wanna see me - after the show.
CHEETAH: If you're female.
OEDI: Looks like we have a caller right now. First, why don't we listen to the first cut off the first side of your new album called Sonic Reducer.
Track: SONIC REDUCER - The Dead Boys
STIV: That was Sonic Reducer. That was co-written with Rocket from the Tombs - Cheetah and the singer from Pere Ubu helped write that song (Cheetah mumbles). We're gonna play a song... well, Mr. Oedipus is...this was given to us by some friends in a band called The Damned - when they came over we play with them at CBGB's - a couple weeks ago.
CHEETAH: This is their arch enemies...
STIV: Yeah. A band called the Clash They're into a more political thing in England. This song called "1977."
Track: 1977 - The Clash
STIV: That is Clash and right now he's gonna play a little bit of Elvis Costello from Stiff Records.
OEDI: Who's Elvis Costello?
STIV: He's a new guy they picked up. Sort of looks like Toad from American Graffitti. Has the glasses. Baggy pants. He's one of the newest Stiff stars from England.
CHEETAH: Very cool, very cool.
Track: RADIO SWEETHEART - Elvis Costello
STIV: That was Radio Sweetheart by Elvis Costello.
OEDI: Hey where are you guys headed after this.
CHEETAH: Going back to New York City.
STIV: Yeah, we open for the Dictators next week at CBGB's
OEDI: Oh yeah? Why don't you ask the Dictators if they're gonna come up to Boston or not. They haven't been here yet and we're kind of waiting for them to get there.
CHEETAH: Wait til ya see 'em.
STIV: Yeah, they really improved. They're really good now. (laughter)
OEDI: We've never seen them. We play cuts from their album, Next Big Thing, California Sun...
CHEETAH: Well that album doesn't testify to how good they are.
STIV: Yeah - you should see them live.
OEDI: Is their new album done yet - do you know?
CHEETAH: It's done. Gonna be released in two or three weeks.
STIV: Yeah, they opened their new act up in Frisco. They played someplace called... the somethin' Gardens , it's a Polynesian place. They've been playing up there. It's polynesian by day, punk by night.
OEDI: Hey where's the rest of the guys? Where's Jimmy and Johnny?
STIV & CHEETAH: Sleepin'. Either that or in a bar somewhere.
OEDI: Okay what's this next song?
STIV: It's called Not Anymore. It's about... we wrote... me and Gene wrote it a little while back... me and Cheetah...
CHEETAH: It's our wino song.
STIV: Yeah. It's all about a wino in New York. Just about anybody in New York, when you got no place to sleep and it's cold.
CHEETAH: We had a lot of it this winter.
Track: NOT ANYMORE - The Dead Boys
STIV: That's Not Anymore.
MACH: Yeah, that's Not Anymore by the Dead... this is Mach Bell!
STIV: Who?
MACH: Mach Bell they call him, back on the...
STIV: Oh yeah, Mach Bell... yeah I heard of that.
MACH: Hey I just ran down the street to get a grinder. This is WTBS, a public service of MIT 88.1 on the FM dial.
STIV: The Demi - Monday show.
MACH: (DJ voice) The time now is 17 minutes before the hour of 7. We got 17 more big minutes of rock'n'roll.
STIV: Hey - maybe you should be a deejay.
MACH: Hey, heard any good ones lately?
STIV: Got in too much trouble last night for good ones.
MACH: Listen folks we're serious - we need some people to come down tonight and we don't mean... you know.... we need some real rockers down there tonight cause we're dying to rock out. We've been here for a couple days - y'know Thundertrain's been out of town for a long time... and y'know, it was pretty good - but I know there's a lot.... I know Toots Twomey's out there, I know Pam Green's out there, Kenne Highland's out there - I know you people are in town this week so you gotta get down there, make some noise, 'specially for the Dead Boys man. This is really the first time they ever played here - so I wanna impress 'em...
STIV: Yeah, we haven't even gotten taken home by any of you wild women out there.
MACH: That's for damn sure... (laughter).... uh, it's a new scene just happening....and just as the new bands are comin' up, there's new groupies comin' up too… whoa - here comes Oedipus. Oedipus is back from the sub shop. I think he's gonna chop us off... no - he's on the phone, we're all set. Oh yeah, I should hype our new album Teenage Suicide, with a cover photo by Oedipus. Which is pretty hot. Oedipus, can you hear me?
OEDI: Yeah I can hear you.
MACH: Our album's got this picture of a dead girl on it... she committed suicide...
STIV: heh heh ... dead girl.
OEDI: Listen we have a caller on the air who wants to ask one of you guys a question.
MACH: Alright. Put 'em on.
FEMALE CALLER: Where abouts are you from?
STIV: Cleveland
FEMALE CALLER: Cleveland. Are you all from Cleveland?
STIV: Yeah, all of us. Well I'm originally from Youngstown Ohio. Sixty miles outside.
CALLER: Yeah?
STIV: Yeah. But the rest are all Cleveland boys.
CALLER: Are you gonna be playing in Boston anymore?
STIV: Tonight. Maybe tomorrow night. It depends on what happens.
MACH: Hey. You know I'm from Ohio too. Oedipus, are you from Ohio?
OEDI: (to caller) Do you want to meet him?
CALLER: Sure.
OEDI: Then why don't you go to the Rat tonight.
CALLER: I've already been there.
STIV: You have?
CALLER: Last night I saw you guys play.
MACH: Who is this? Is this Jon Macey? (laughter)
CALLER: No this is Carol.
MACH: Oh Carol, how're you doing? You should come down...how was Vermont? (laughter) How was Vermont? Did you see any cows? (laughter)
CAROL: Well I'm not exactly in Vermont. I'm in Auburndale.
MACH: I'm not trying to cause libel, I just wanted to know how the cows were...
STIV: You should come down. Jimmy Zero and Johnny Blitz are lonely.
MACH: What do you mean? They're with Steven Silva and Bug Witt of Reddy Teddy right now.
STIV: That's what I mean. They're lonely!
CAROL: How's Reddy Teddy doing?
MACH: They're doing hot. They were a hit in New York two weeks ago. I heard the whole story. Yeah, they're doing good.
CAROL: They have a little bit about Thundertrain and Reddy Teddy in Hustler magazine. M
MACH: Yeah. A very little bit.
OEDI: You're in Hustler Mach Bell?
MACH: That's not true.
STIV: heh heh, yeah Mach's the centerfold.
CHEETAH: They had to extend an extra piece onto it. (laughter)
OEDI: Hey you guys. Thundertrain was real hot up in Montreal I heard.
MACH: Yeah, we got held over. First time we ever got held over in a place they were actually paying us. There was strippers and a motorcycle gang... didn't make too much money, but it was good, our second time up in Canada.
OEDI: Thanks for calling Carol, bye-bye.
STIV: See ya tonight.
OEDI: So listen up all you Thundertroopers and dead people, dead persons...
STIV: Necrophiliacs...
OEDI: Why doncha come on down to the Rat tonight and catch both Thundertrain and the Dead Boys and... you guys are gonna be there tomorrow aren't you? The Dead Boys?
STIV: Yeah we'll be there. We'll be featured with a bondage show.
MACH: Plus that band Dino, Desi and Hilly
STIV: Yeah with Jim Harold and Hilly Kristal.
OEDI: Steve, are you gonna use all your props with this bondage show?
STIV: Yeah. Later after the show. We'll be all tied up.
OEDI: What song are you gonna exit on?
STIV: We're gonna do this number called Down In Flames.
MACH: (monster voice) Down In Flames
STIV: Yeah. It was written about some guy sitting in a bomber, watching a blip on his screen - it's a missle coming towards him... to blow him up. It's the thoughts runnin' through his head while he's watchin'... This song features Mr. Ronald Binder, punk of the month from Punk Magazine - who works around with Dictators and Blue Oyster Cult - he's just one of the local cee-lebrities.
MACH: Why doncha sing along with the first bar of it?
Track: DOWN IN FLAMES- The Dead Boys
STIV: (open mic while track begins) I don't know the words. (laughter, howling) DEAD BOY!!!!!